"It's costing a fair bit to stay open. I'm going backwards at the moment," he said
He felt "very emotional" and it was "extremely difficult", but he had decided to operate online from now on.
The business was opened in 1916 as a gun and pawn shop by Mr Michael's great-grandfather Emanuel Michael. It became a pharmacy in 1925 that also sold photography equipment.
Mr Michael, 62, worked as a child for his father, Alan, counting pills, cleaning and delivering goods.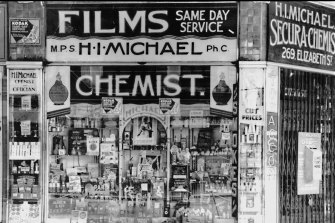 He sold his first big camera, a Minolta SRT 101, for $250 in 1971. He was 13
During and after World War II, the pharmacy was known for selling contraceptives, including a thriving mail order business.
An elderly woman told Mr Michael that she had worked there in the 1950s but never told her friends, such was the taboo around such matters.
From 1976, Michaels solely focused on photography, but its attitude stayed the same: "You care about the customer, you know about the product," Mr Michael said.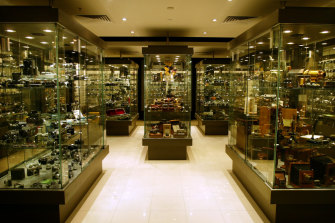 Elton John once bought a Polaroid camera at Michaels. Lionel Richie, Bette Midler and John Farnham have all been customers.
Theft was a constant. Recently, a man walked out without paying for four $200 cameras. He was arrested across the road.
Mr Michael would like to donate his museum of 10,000 items, which he believes is the largest private camera collection in the world, to an institution such as the Melbourne Museum, as "a lasting tribute to our family and our place in Melbourne".
Pieces include a metal "birdie" of the kind that early photographers whistled into, while their head was under the cloth camera shade, to signify to photo subjects to look at the camera, or "watch the birdie".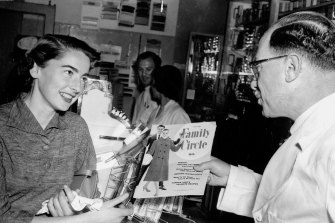 There are two telephoto lenses that were damaged in the 1986 bombing of the Turkish consulate in South Yarra, and a sleek 1928 green ladies' pocket-sized vanity camera that includes a powder compact, lipstick and mirror.
Customer Adrian Roy, 65, of Glen Waverley, said he felt "shock and dismay" at the store closing.
A keen photographer, Mr Roy has has been coming to Michaels for more than 30 years, often just to look at museum exhibits, such as photos taken using Leica cameras.
Mr Roy said, of the closure: "You've got to follow business realities, I know, and this COVID business has slammed everybody, tragically. It's unfortunate."
Michaels is still trading online at michaels.com.au